3 actions to help you retain your customers
0
June 8, 2015 at 2:00 am by
Christian Bieck
---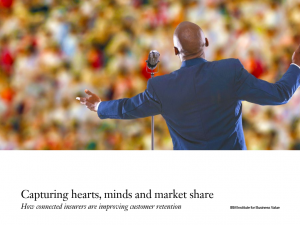 After two sneak peeks and a lot of data snippets on Twitter,  the new IBV study for insurance has arrived! In "Capturing hearts, minds and market share – How connected insurers are improving customer retention", my colleague Lee-Han Tjioe and I describe the issues insurers are facing in retaining today's empowered consumer, and the actions that they need to take to overcome these challenges – and, by extension, generate deeper customer relationships.
To get to our results, we surveyed more than 12,000 insurance customers in 24 countries around the world. About a third of respondents got to their current coverage by switching insurers in the past two years. What can insurers do about that? In our findings, we focus on three dimensions of retention and action:
Customer understanding
Customer value and
Customer engagement.
These dimensions lead to the short and simple answer to the question "How do you retain your customers?": involve them more and better. Capture their hearts and minds to help your market share!
The study is free to download. If you want to see some more details, there are two upcoming events in the next two weeks around the study: a Crowdchat on Thursday June 11th from 2-3 p.m. ET, and a Webinar on Thursday June 18th, same time. Both are slanted toward a North American audience, but if you log in from anywhere else in the world I'll be happy to field your questions, too. Hope to see you there
---
Disclaimer
Note: By submitting your comments you acknowledge that insBlogs has the right to reproduce, broadcast and publicize those comments or any part thereof in any manner whatsoever. Please note that due to the volume of e-mails we receive, not all comments will be published and those that are published will not be edited. However, all will be carefully read, considered and appreciated.