Leaving Legacies Behind
0
July 31, 2014 at 9:01 am by
Catherine Smola
---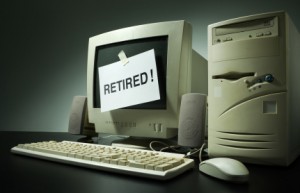 An important topic concerning the P&C insurance industry is legacy systems – the technologies put in place years or even decades ago to support business operations. These could include anything from desktop computers and old operating systems to entire servers or back-room systems. Legacy systems acquired the name because of their tendency to remain in place long after viable replacements become available, though this longevity is not necessarily positive or negative in and of itself.
Legacy systems promote a sense of comfort and stability. Companies build entire workflows based on how their existing systems function, and employees learn habits to maximize their productivity within that system. Legacy systems are established elements that simply work.
Legacy or liability?
Problems arise when a legacy system isn't flexible enough to offer new, desirable functionality, or when the technology is no longer supported. A recent, well-publicized example was when Microsoft ended support for its Windows XP operating system. Computers that run Windows XP still function, but without ongoing system updates they are prone to security issues and a lack of compatibility with new software.
For the insurance industry, the costs and implications can be significant. Not all projects are created equal – the cost of upgrading an operating system or purchasing new office computers is modest, especially when compared to the hundreds of millions of dollars required for complex servers and large-scale administration systems. Common to most projects, however, is the requirement for employees to undergo a learning curve and work through operational disruptions as they acclimatize to the new system and learn its nuances.
The cost of retaining legacy systems, however, can be equally compelling. Some businesses may find themselves unable to adopt paperless workflows with CSIO eDocs, necessitating paper-based transactions that carry ancillary costs for document storage, retrieval and destruction. Those wishing to enable online customer access to policy documents may find that their system simply does not have the capability.
Beginning a new legacy
The best course of action is to develop a plan based on criteria such as future business goals, current system functionality, and identifying gaps between the two. Obtaining quantified costs and savings, such as those provided by the CSIO eDocs Savings Calculator, can help with this process.
Updates to legacy systems can sometimes be incremental – making targeted changes rather than investing in a total conversion. One such step can be transferring data to external repositories that store it in a flexible, accessible format that allows for new uses while continuing to serve legacy workflow. A detailed analysis can reveal the steps required for your organization.
The P&C insurance industry is under pressure to adopt new technologies and meet consumer expectations. However, bear in mind that the legacy systems of today were undoubtedly put into place under similar pressures to modernize years ago. Investing in productive change is nothing new to the insurance industry, and that is a legacy to maintain both now and in the future.
---
Disclaimer
Note: By submitting your comments you acknowledge that insBlogs has the right to reproduce, broadcast and publicize those comments or any part thereof in any manner whatsoever. Please note that due to the volume of e-mails we receive, not all comments will be published and those that are published will not be edited. However, all will be carefully read, considered and appreciated.