While we are waiting for changes to be processed …
2
February 2, 2015 at 4:38 pm by
Patrick Vice
---
As an occasional writer, I appreciate good use of language.  My collection of favourites includes three sentences used by various telephone customer service representatives.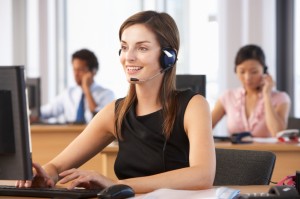 They contain a small lie. But as a wanna-be marketer, I find it really tickles my engagement fancy.  I'd be interested in your thoughts; perhaps we can chat about it in March.
The first time time …
I first encountered the sentences a couple years ago. I received a replacement bank credit card with a new expiry date, which required a phone call  to activate.
I called a number that went directly to a customer service representative I will call Jim.  I had to answer a few security questions and confirm my address and phone numbers. This all took less than two minutes. Then came the sentences.
"This will take a few minutes to process," Jim said. " While we are waiting, I notice that you don't have insurance to cover your card balance in the event your are injured or struck by illness. Let me explain."
Your computers are that old?
My first reaction was to interrupt and ask, "Is your technology that old?'
Here's what I believe to be the small lie:  Jim said that yes, it was a shame, but it would be activated in less than five minutes.
He then transitioned quickly to explain in that even though I pay the full amount owed every month, this would protect my family and credit history by paying off the card balance in the event of an injury or illness that reduced my income.
I thanked him and declined three times.  Each time the Jim had additional product features to describe, and each time ending with, "May I put this into effect for you now?  You may cancel at any time."
Jim seemed genuinely concerned that I act now.
I resisted temptation, but…
After the third try failed,  Jim thanked me for the time time and said, "I see your new card is now activated." I believe that blaming technology was a ruse, but I admired the structure of the wrap-around marketing/service contact.
I also admired that his contact systems carried my credit card information and information about insurance coverages he could offer.  Jim quoted rates for my age.
The computer problem is spreading inside the bank …
Every time I've had a reason to contact this bank (I moved recently), I have found myself in a similar conversation with a different CSR.
Each time, those damned computers make us wait to confirm the transaction, but the CSR does have an insurance or warranty  or investment product to discuss – directly related to the financial product I called about.
It never takes more than four additional minutes and I am usually interested in seeing what solutions are being featured.
And it goes beyond banks … to usage-based insurance
Friday last, I got a renewal notice for my automobile roadside assistance program, and remembered I hadn't changed my address with the supplier.  When I called, (around 8:00 pm on Friday evening)  Joanne, the CSR,  took the information and told me  (wait for it) we had to wait a few minutes for confirmation of the address change.
Joanne then asked if I had heard about usage based insurance, and would I be interested in learning more. 
It occurred to me that this was the first time anyone had asked me this in my role as an insurance consumer.  Nothing from my broker, nor from my insurer.
I will check with my broker, but …
I understand the challenges that brokers are facing these days, but scrimping on account rounding during service calls is probably not a great strategy with people like Jim and Joanne on the prowl.
And carriers supporting brokers might want to take a look at the brokers' marketing strategy for retaining accounts and seeking new opportunities to solidify the ties.
What do you think?
Take a few moments and put your customer hat on.  I felt that Joanne and Jim were really trying to engage me.  And it felt pretty good hearing something new.
At the 2015 Insurance-Canada.ca Technology Conference, leading insurers, brokers, analysts, and suppliers will be discussing trends in engagement and The Digital Customer Experience.  This would be a great place to exchange thoughts.
Information and registration available at Insurance-Canada.ca/2015.
No waiting for computers to process your transactions!
---
Disclaimer
Note: By submitting your comments you acknowledge that insBlogs has the right to reproduce, broadcast and publicize those comments or any part thereof in any manner whatsoever. Please note that due to the volume of e-mails we receive, not all comments will be published and those that are published will not be edited. However, all will be carefully read, considered and appreciated.
---
2 Comments » for While we are waiting for changes to be processed …