If it's not about the money, why should you be interested in bitcoin?
0
July 13, 2015 at 1:46 pm by
Patrick Vice
---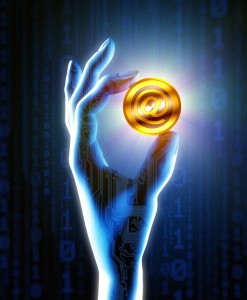 Bitcoin hit many business users' radar screens in a quadrant labelled "Don't even think about it." It looked like a complex product, developed by geeks, that served the interests of  international criminals.
We were in this camp until we learned that the best part of bitcoin doesn't involve financial transactions and may solve some big insurance industry problems.
We'll introduce the components in this post and will showcase examples in future posts and at ICEF2015.
Bitcoin is only the visible part of the iceberg
Heralded as the next generation of money, Bitcoin is commonly referred to as 'cryptocurrency,' a peer-to-peer, virtual currency.  It is dependent on technology and the willingness of the participants to accept the virtual currency in exchange for goods and services.
The value is that the direct connection bypasses intermediaries (read: Banks) and attendant charges.  But, so far,  this is not driving mass acceptance.  According to Steve Beauregard, CEO of payment platform developer, GoCoin, merchants have been "widely disappointed by the number of transactions they see in bitcoin".
So, is this to be shelved until some future time?  We think not.
It's not the money, it's the blockchain ….. 
According to Peter Diamandis, Executive Director of Singularity University, and Founder of the X Prize, the real innovation in bitcoin is the underlying technology, something called blockchain. Diamandis notes that investors such as Marc Andreessen (author of Mosaic, the first widely used web browser), "have poured tens of millions into the development <of blockchain> and believe this is as important of an opportunity as the creation of the Internet itself."
So what is blockchain?  And whey should we care?  According to Diamandis, it is "a protocol that allows for secure, direct (without a middleman), digital transfers of value and assets (think money, contracts, stocks, IP)."
That's a whole lot simpler a definition than that of its progeny, bitcoin.  And it may be more impactful, as the transactions go well beyond payments and include things like personal identification, risk control conditions, smart contract agreements, etc.  The architecture of blockchain ensures that all transactions are recorded and timestamped.   The data are guaranteed to remain intact in their then-current form, and the technology provides the capability of recreating versions throughout the entire lifespan of revisions.
And, because of the nature of blockchain, infrastructure concerns such as addressing, validation of identity, security, confirmation of receipt, secure delivery, etc. are incorporated into the base technology.
What does this mean for insurance?
A recent report from Z/Yen Group, Chain of a Lifetime, available from LongFinance, describes how blockchain could be used (and transform) personal insurance.  The report is comprehensive, and quite readable, but might be a bit much for most readers, as it covers the technology as well as providing examples for life and P&C insurance.
We will use this space to provide some examples on our own (first one just below) and CGI will present a session at the 2015 Insurance-Canada.ca Executive Forum, The Looming Componentization of Insurance, which will include drivers for, and implications of, the use of blockchain technology.
Example:  MicroInsurance
Riskebiz focuses on microinsurance technology and investment.  It has used block chain technology which facilitates processes which otherwise would have been impossible or impractical:
Prediction markets to fill gaps or provide a substitute for available actuarial data. Lack of actuarial data is a key challenge to the development of microinsurance programs.  Often, there simply isn't enough recorded data to enable insurers to predict the likelihood of future events occurring.  Using prediction markets built on blockchain technology, we can collect inputs from a pool of individuals and use it to estimate the probability of an event occurring.
So stay tuned, and stay in touch
If you are interested in blockchain, we'd encourage you to let me know and stay tuned to  TheIntersection, Insurance-Canada.ca's blog, for more information and case studies.  If you have a case study, please share it!
For an executive level view, check out the 2015 Insurance-Canada.ca Executive Forum.
---
Disclaimer
Note: By submitting your comments you acknowledge that insBlogs has the right to reproduce, broadcast and publicize those comments or any part thereof in any manner whatsoever. Please note that due to the volume of e-mails we receive, not all comments will be published and those that are published will not be edited. However, all will be carefully read, considered and appreciated.