The state of flood mapping in Canada
2
October 17, 2014 at 2:42 pm by
Glenn McGillivray
---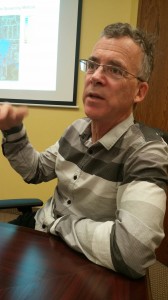 On October 10, ICLR held a Friday Forum workshop entitled 'National Riverine Floodplain Mapping Framework and Advancements in Urban Overland Flood Risk Assessment', which largely looked at the state of flood mapping in Canada.
The workshop was lead by Tim Mereu, Vice President of MMM Group, with responsibility for water resources  and environmental services. He has thirty years of consulting experience with a focus on water resources, including flood risk management, policy and standards development, master planning, channel restoration, and storm water management. Tim was the project manager for the recently completed National Floodplain Mapping Assessment undertaken on behalf of Public Safety Canada (PSC).
PSC is the lead federal agency responsible for disaster prevention and mitigation. In response to the increase in flood intensity and flood damage over the past number of years, PSC issued a public tender in August 2013 seeking to assess the current state of flood plain maps in Canada in order to help inform potential mitigation activities. In support of this objective, PSC requested three deliverables in its tender: 1) A report on international flood mapping practices in seven countries other than Canada and a recommended standard; 2) An assessment report on the current state of flood plain mapping in Canada; and, 3) A costing report on requirement to bring current Canadian flood plain maps up to a recommended standard.
MMM Group was awarded the contract.
The October 10 presentation focused on the National Floodplain Management Framework including proposed mapping standards, anticipated implementation steps, and the scope and intent of a proposed national flood risk database.
The National Floodplain Management Framework produced by MMM identified:
• The type and extent of information that must be collected and managed;
• The key standards and guidelines that will apply to the development of flood hazard maps and a flood risk database.;
• The anticipated cost of updating and preparing new hazard maps, as required, and the compilation of data for the flood risk data base; and
• A list of initiatives to be completed as part of implementation.
The second half of the presentation focused on recent advancements in effectively defining urban overland flood risk. Urban overland flooding is caused by intense rainfall events in areas where there is insufficient storm sewer system capacity and poorly defined overland flow routes.
Currently, areas in Canada prone to urban flooding are not generally defined. Moreover, in areas that are known to be flood prone the risk is rarely quantified. By better defining areas at risk, municipalities can focus efforts in effective urban overland flood mitigation.
[youtube http://www.youtube.com/watch?v=AS0iuFEg1h0?list=UUfRkPzVbeF5Yxk5POqVQV7A]
---
Disclaimer
Note: By submitting your comments you acknowledge that insBlogs has the right to reproduce, broadcast and publicize those comments or any part thereof in any manner whatsoever. Please note that due to the volume of e-mails we receive, not all comments will be published and those that are published will not be edited. However, all will be carefully read, considered and appreciated.
---
2 Comments » for The state of flood mapping in Canada