Super Bowl of Our Own
0
February 2, 2016 at 7:24 pm by
Peter Hohman
---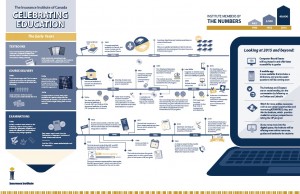 Professional athletes recently demonstrated their highly-publicized talents in the Super Bowl, an annual event that prompts celebrations throughout the United States and Canada.
Although not nearly as well publicized, the Canadian property and casualty industry is also filled with many skilled and talented professionals.
A Conference Board of Canada study confirms that educated insurance professionals are the fan favourites among Canadian policyholders – and also the MVPs of their teams – because they are highly skilled, trustworthy and you can rely on them to come through in the clutch.
National Education Week is our annual event that allows us to celebrate their outstanding work with Canadian policyholders throughout the country.
Consider National Education Week to be our version of the Super Bowl for the Canadian p&c insurance professionals. From February 22 to 26, the Insurance Institute will be recognizing the excellence of knowledgeable insurance professionals dedicated to their craft.
It takes hard work to rise to the pinnacle of any industry. Football players, regardless of talent, must train for long hours to become truly remarkable at what they do. Similarly, insurance professionals spend a lot of their time learning so that they can compete at their highest level.
Each year in our industry, thanks to dedication and training, you can see many examples of textbook strategic decisions by brokers, well-executed policy agreements by underwriters, and highly-organized game plans crafted by claims professionals responding to catastrophic events.
The Insurance Institute has created a video highlight package of interviews with educated insurance professionals who have told us the importance of education in preparing them to reach their peak level of performance.
Sport is a magnet for statistics. In honour of a profession dominated by numbers, we have prepared a few stats of our own for 2015. Here's a look at the Institute's Year by the Numbers.
And in keeping with the spirit of competition during the Super Bowl, the Institute will be holding a number of skills competitions across the country during National Education Week. Twitter contests will not only test your social media savvy and photo talent, they will test your knowledge about what the Institute can do to further your professional education.
Want to give your brain a work-out after the Big Game? Local Institutes across the country will be hosting a variety of seminars and speakers to help you scout out the emerging issues and topics facing your organization and the p&c industry.
If we had approximately 40,000 trophies, I would hand them out to all of the insurance professionals in Canada's p&c industry who have come to us at the Institute to help them elevate their game. Education raises the level of competition in the industry, and Canadian consumers end up being the big winners in the end.
---
Disclaimer
Note: By submitting your comments you acknowledge that insBlogs has the right to reproduce, broadcast and publicize those comments or any part thereof in any manner whatsoever. Please note that due to the volume of e-mails we receive, not all comments will be published and those that are published will not be edited. However, all will be carefully read, considered and appreciated.