It's a Bird, It's a Claim – How Drones can Change Insurance
0
July 3, 2014 at 9:41 am by
Catherine Smola
---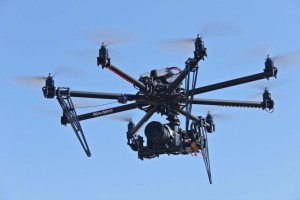 Aerial drones – small, unmanned air vehicles (UAVs) – are highly visible at the moment, making an impact in areas as diverse as car advertisements, scientific research and agricultural support. The insurance industry can benefit from the technology as well, most notably for the often-lengthy process of claims adjustment.
The value of UAVs to adjusters lies in the ability to deploy rapidly and collect visual evidence from claim sites in less time than it would take a manual inspection. They could be especially useful when used in response to natural disasters and catastrophic loss, as UAVs can survey large areas and multiple properties in a single flight – a process that could otherwise take months.
A recent Claims Journal article on UAVs cites industry and legal experts who see this type of use becoming commonplace in the near future:
Grant Goldsmith, president of Overwatch, a provider of high-risk insurance for international contractors that is a division of Avalon Risk Management, a managing general agent and a logistics risk insurer, said he has already been approached by insurers interested in using drones for claims work. He said one company representative approached him […] after the carrier became overwhelmed with Superstorm Sandy claims.

Jason Wolf, a property defense attorney and shareholder at the Fla.-based firm of Koch Parafinczuk & Wolf, sees drones being used for aerial surveys of property damage to insured roofs.

"You get to see everything. You may not even need to go up on the roof. You can see every single inch of the entire property, just with the touch of a few buttons," Wolf said.

He also expects drones to be used by insurers after a catastrophe.
Faster claims adjustment results in greater workflow efficiency and reduced costs, an important concern in the broker distribution channel. In addition, clients who receive superior customer service through prompt claims resolution are more likely to renew, boosting retention rates for brokers and insurers.
At the moment, Canadian regulations governing UAVs do not permit this type of spontaneous deployment, as many issues remain unresolved – not least of which are privacy concerns and the risks associated with autonomous technology. However, Transport Canada's ultimate goal is to normalize UAV operations in civil airspace. With that in mind, we can reasonably expect everyday use of UAVs in the future, with the insurance industry as one of many employing them to streamline operations and support profitable growth.
---
Disclaimer
Note: By submitting your comments you acknowledge that insBlogs has the right to reproduce, broadcast and publicize those comments or any part thereof in any manner whatsoever. Please note that due to the volume of e-mails we receive, not all comments will be published and those that are published will not be edited. However, all will be carefully read, considered and appreciated.