Broker success rule #1: It's not what you sell, it's whom you sell. (Part 1)
0
June 15, 2018 at 10:55 pm by
Ehsan Rasul
---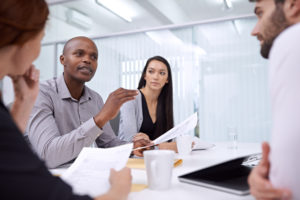 Most of the time, our focus is to close the sale before our competition gets it. All we want is to add another number in front of our name. Sometimes, it's the pressure from our employer that forces us to write more and more policies to win a competition or our own desire to be seen as a top sales person. That's an illusion, a mirage of being successful.
A successful general insurance broker or agent knows this secret very well. "It's the individual that matters in insurance Not the product. It's not what you sell, it's whom you sell."
It's the individual who doesn't pay his/her bills that causes accidents and damage to his/her property due to negligence, most of the time. It's the client who will send us referrals or spread the bad word.
Pay close attention to your prospect, ask questions, and find out as much about her as possible. Some of it is part of the quote process, but sometimes you have to dig it out in a casual and friendly conversation.
For high value clients, use Google to find out more about your prospect – you will be surprised. Demographics are extremely important. Know your city like the back of your hand. The more you know about your city and communities you serve, the easier will be for you to make a decision.
Nowadays, most of the business is done online, by phone or email and, without any face to face interaction. Everyone is in a rush to buy and we are in a hurry to sell. It's like getting married to a stranger on a blind date, in Vegas! Exciting, you bet. Wise, hell no.
If we focus on our prospect, qualify him/her first, then we can match and offer the product he/she needs. We shouldn't offer any product right off the bat. Don't just answer few questions on your quoting software, get the lowest price possible, get the approval and there you go, you are covered. Selling by price is the easiest thing in the world. It's not the salesmanship, even a school kid can do it.
Our job is not to offer the cheapest quote in few minutes and close the deal. We, as a professionals, are in a very serious business of insuring hundreds of thousands or millions of dollars worth of properties, businesses and vehicles. We are answerable not only to our clients but also to our insurer partners. Few or even one large claim on our book of business ruins our record as a broker. It takes us years to recover those losses, to become profitable again. Just imagine how many years it will take an insurer to recover a million dollar claim payout. How many profitable new policies do we have to write in order to bring our book of business from red to green?
If you work in a branch office of your local community, ask the prospect to come in and meet you in person, if possible. This will make a huge impact on your business and help you build a foundation of a long and fruitful relationship with your potential client.
If it's not possible to meet in person, then ask a lot of questions to build an almost accurate mental picture of your client. Do due diligence, qualify your prospect first, then connect all the dots, the picture will emerge. You ask yourself, do you like this picture or there is something wrong with it? Can you trust this prospect to have a long term and profitable relationship? Will this prospect be a good client for your business or your company or a pain in the rear and waste of time? If the answer comes back as positive, go ahead and offer your product and do your best to close the sale. But if answer is negative, let it go. Don't push it. Do not cut corners or give the benefit of doubt to the prospect to close the sale, you will regret it later, I assure you.
One last piece of advice, never rush to close the sale, remember, if your client is in hurry, you are not. In the general insurance business, any sale done in a hurry will come back to haunt you.
Ehsan's pick of the week: This week, I have picked another all time best seller The 7 habits of highly effective people by Stephen R Covey. I believe most of us have read this book. If you haven't, this is one of the books you must read and keep it in your personal library. This book will change your life.
The post Broker success rule #1 It's not what you sell, it's whom you sell. (Part 1) appeared first on Ehsan Rasul.
---
Disclaimer
Note: By submitting your comments you acknowledge that insBlogs has the right to reproduce, broadcast and publicize those comments or any part thereof in any manner whatsoever. Please note that due to the volume of e-mails we receive, not all comments will be published and those that are published will not be edited. However, all will be carefully read, considered and appreciated.