Meeting brokers' CE needs online
0
September 23, 2016 at 3:41 pm by
Peter Hohman
---
Brokers are very busy people these days. This is due to all kinds of new insurance products designed to stay on top of consumers' changing needs.
Choice is good for the consumer. It's good for brokers, too. The wide variety of insurance options available to Canadians creates an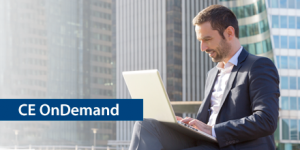 opportunity for brokers to provide sound and invaluable advice to their clients.
As insurers bring new solutions to the marketplace, the need for brokers to stay on top of the changes becomes more important. Continuing education is a critical part of brokers maintaining an outstanding level of service to their clients.
How do brokers keep up with their education while at the same time keeping up with their clients' needs?
CE OnDemand
They come to the Insurance Institute of Canada, a not-for-profit education partner to the p&c industry for more than 100 years. We have surveyed hundreds of brokers across the country about what they want from their CE courses.
Based on what we heard, we have introduced CE OnDemand. It's a quick, easy and affordable way for brokers to get their CE hours online.
Brokers can take a one-hour CE OnDemand course any time during the day or night. They can download or print their certificate immediately after completing the course and passing the final 'Knowledge Check' quiz.
Brokers told us they are looking for advanced product knowledge and a deeper understanding of trending topics. We have listened and responded.
What brokers want
CE OnDemand courses currently cover topics in Managing Overland Flood Risk, Managing and Insuring Cyber Risk and Insuring the Sharing Economy. In the future, look for courses that cover more of brokers' Top 10 topics, including Business Interruption, D&O, E&O and more!
The Insurance Institute has applied its customary high standard of instructional design to the course content. One broker described the case-based scenarios, client situations and quizzes as "snappy, fast-paced and informative."
Best of all, CE OnDemand helps brokers cut through the industry jargon and deliver the facts to clients in a simple and straightforward way. "I think CE OnDemand is perfect for providing information that brokers can give to their clients so that the clients can better understand what they are purchasing," said Toronto broker Brad Neal.
More information about the full CE OnDemand catalogue and course pricing is available to brokers who want to simplify their CE experience.
---
Disclaimer
Note: By submitting your comments you acknowledge that insBlogs has the right to reproduce, broadcast and publicize those comments or any part thereof in any manner whatsoever. Please note that due to the volume of e-mails we receive, not all comments will be published and those that are published will not be edited. However, all will be carefully read, considered and appreciated.