Putting Fort Mac back better
1
July 11, 2016 at 3:57 pm by
Glenn McGillivray
---
A small city that wasn't designed to burn was put up in the middle of the Boreal forest that was designed to burn. Are we simply going to put Fort McMurray back the way it was?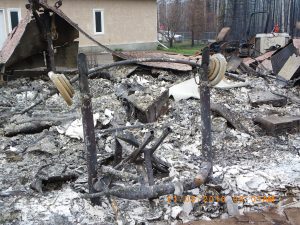 Fortunately for insureds in Fort McMurray (but unfortunately for the industry) Canadian insurers have gotten quite good at managing large catastrophe losses, including the processing of large numbers of claims, dealing with customers that will be out of their homes for long periods, and managing the process of rebuilding.
Though the process could never be fast enough for those who lost their homes in Fort McMurray, at the end of it all, insureds will be made whole again, the industry will make sure of that.
The big question is: Will insurers facilitate a process whereby the city is 'put back' the way is was, or will they play an active role in working to ensure that the Fort McMurray wildfire loss isn't repeated some time again in the near future?
In other words, will insurers be open to the concept of building back better?
Prior to this event, ICLR had been working with its Insurance Advisory Committee on its Insurers Rebuild Better Homes program, which identifies best practices for the design and construction of homes to reduce the risk of loss and damage from several natural hazards, including wildfire.
The program sets out three essential elements for each hazard – basement flooding, wildfire, extreme wind and hail – that provide the greatest impact on risk reduction, plus several additional elements that would further improve resilience if funds are available. These elements are actively encouraged when insurance companies respond to a total loss, but should also be considered with a partial loss event.
Elements of the program dealing with wildfires are recommended in all areas at risk of wildfire, and are particularly important in the wildland-urban interface, such as Fort McMurray.
This unfortunate loss event offers up a great opportunity for Canada's insurers to work with the government of Alberta, the federal government and others to prevent a repeat of this disaster in the decades ahead.
As noted many times in the popular culture: The definition of insanity is doing the same thing over and over again and expecting different results.
Now is the time to break the cycle of loss that has taken a grip in Canada.
---
Disclaimer
Note: By submitting your comments you acknowledge that insBlogs has the right to reproduce, broadcast and publicize those comments or any part thereof in any manner whatsoever. Please note that due to the volume of e-mails we receive, not all comments will be published and those that are published will not be edited. However, all will be carefully read, considered and appreciated.
---
1 Comment » for Putting Fort Mac back better