A thousand cuts
0
August 4, 2016 at 3:52 pm by
Glenn McGillivray
---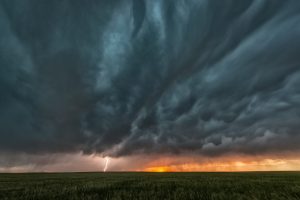 One of the problems with large natural disasters like Fort McMurray is that much smaller ones can pile up with little notice and no fanfare.
This seems to be what's happening in Canada this year.
As all eyes have been fixated on the recovery in northern Alberta, an unprecedented nine other catastrophes have been declared by CatIQ (with a catastrophe defined as an event that causes a minimum $25 million of insured damage scattered over a reasonable number of players in the market).
Aside from Fort McMurray, other declared events involved an ice storm in Southern Ontario (March 23 to 26), a storm in Southern Ontario (July 8) and a storm in Ontario and Quebec (July 27).
The six remaining events almost all involve convective storms in some combination of British Columbia, Alberta, Saskatchewan, Manitoba and Ontario.
Of the five provinces, Alberta – once again – seems to be particularly hardest hit, as six out of the ten events recorded so far this year have affected the province in one way or another. Okotoks, Edmonton, Calgary, Lethbridge, Medicine Hat, Grande Prairie, Fort McMurray and several other communities have been impacted in recent weeks, with heavy rains, high winds (including tornadoes) and hail on tap for most. Indeed, July 2016 goes down as the wettest in 89 years of record-keeping.
Saskatchewan and Manitoba have also been hard hit, where places like Arborfield and Yorkton, Saskatchewan experienced significant flooding after extensive heavy rainfall events. Wind and hail have also been plentiful. High humidity is one of the culprits, says Environment Canada climatologist Dave Phillips, noting that while much of the moisture has been imported from "places over the ocean" crop sweat is also a factor.
Manitoba, too, has seen a good deal of extreme weather in recent weeks, with tornadoes, straight line winds, hail and heavy rain also commonplace. Many of the storms that have hit the province this year have been grand, sweeping events that originated in Alberta and moved east, with some going as far as Ontario.
Environment Canada meteorologist Andy Yun said this summer's weather is not unusual, but what is different is the dry winters and springs in recent years, which have meant that we've previously seen fewer storms. "If we look at an overall longer term average, we're probably just catching up to where we should be for this time of year," Yun said.
Yun may be right, the number of storms experienced this year may not be that far out of the ordinary, but what is unusual is the number of communities affected and the number of catastrophes declared.
And while few, if any, of the storm losses appear to be large, this could raise a particular problem for many of the country's property and casualty insurers, namely that a good number of these events won't trigger catastrophe reinsurance and, thus, will be taken net on the balance sheet of many a carrier. And unlike just a few short years ago, very few insurers have catastrophe aggregation reinsurance.
According to Guy Carpenter Canada's Don Callaghan in a piece I wrote a few years back, "Aggregate covers can help in high frequency cat years. These contracts let the insurer choose how many 'mini-cats' it can tolerate. Once these cats reach a certain aggregation, the reinsurance kicks in, often on a layered basis…The idea is to protect the client from aberrational cat frequency."
But Callaghan warned: "I'm aware of about eight aggregate contracts in this market and I think every one of them got hit this year. These are obviously proving difficult to price and structure and they are going to be tough to renew. Reinsurers are on the fence as to whether 2011 is an exceptional year or just the new normal."
With the answer now clearer that bad cat years are, indeed, now the new normal, only two carriers have aggregation covers in place according to one source, likely as claims experience and market conditions have made them unattractive for reinsurers.
Thus, 2016 may go down as one of those years where many Canadian p&c insurers will be forced to take a long, hard look at their reinsurance programs and possibly make some adjustments come renewal.
Items that will no doubt be looked at will include retentions, number of reinstatements purchased up front, the question of whether to buy higher layers, and the matter of all those pesky mini-cats.
Experiencing the largest natural disaster loss in Canadian history by far plus and a large number of smaller cats – all by early August – can cause such a reckoning.
The upcoming treaty renewal season could be one of the more interesting ones to come along in a while.
---
Disclaimer
Note: By submitting your comments you acknowledge that insBlogs has the right to reproduce, broadcast and publicize those comments or any part thereof in any manner whatsoever. Please note that due to the volume of e-mails we receive, not all comments will be published and those that are published will not be edited. However, all will be carefully read, considered and appreciated.