Overland Flooding Coverage: An E&O minefield for brokers?
2
June 10, 2015 at 3:02 pm by
Peter Morris
---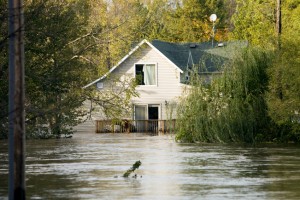 In February, Aviva Canada announced its plan to offer an overland flood endorsement to homeowners in Ontario and Alberta. True to its word, the company launched its Overland Water Endorsement early last week. The endorsement is available to Aviva's policyholders as an add-on to personal property policies that already have sewer-backup coverage. As noted as a Frequently Asked Question on the company's website, the Overland Water Endorsement provides coverage for damage caused by fresh water from rivers or lakes, or water that accumulates suddenly from a heavy rainfall or a spring thaw. Coastal flooding from tidal waves or tsunamis is not covered.
At the moment, Aviva is the only insurer offering this coverage through the brokerage distribution network. A few days before the launch of Aviva's endorsement, Co-operators General Insurance Company launched its overland flooding coverage through its agency network in Alberta.
As exciting as the availability of this coverage is for consumers, it has the potential to create a headache for brokers. If a broker does not make arrangements for this coverage to be added to a client's personal property policy and the client has an overland flooding claim, it leaves open the possibility that the broker will wind up on the wrong end of an Errors and Omissions claim. Ultimately it will be up to the courts to determine what actions a prudent broker needs to take in order to deflect such a claim. But in considering how far a broker should go in terms of advising clients that this coverage is now available, it is worth noting that the Supreme Court of Canada has described the duty imposed on insurance intermediaries as a 'stringent duty to provide both information and advice to their clients'. As noted by Monika Zauhar and Amanda Evans of the law firm Cox & Palmer, in order to satisfy this duty of care to insured, an insurance intermediary is required to 'inform him/herself about the client and/or the client's business, assess the foreseeable risks, and obtain the appropriate coverage or inform the client that the coverage is not available.'
In deciding whether appropriate coverage is available, it is not enough to confine enquiries to the insurer currently on risk. This issue was at the heart of Markal Investments Ltd. v. Morley Shafron Agencies Ltd., a case involving an insured's request for All Risks coverage. Following the insured's request, the broker approached the insurer on risk. The underwriter declined to broaden coverage beyond the Named Perils coverage that was already in place. The broker didn't press the issue or make enquiries elsewhere. Instead, the broker told the insured that broader coverage was not available. A few weeks later, the insured suffered a significant loss that would have been covered by an All Risks policy. In ruling against the broker, the judge accepted as fact that the broker led the plaintiff to believe that All Risks coverage was not obtainable either from the broker's own group of underwriters or from any other insurers. In discussing the real possibility that coverage could have been obtained by other insurers, including insurers not represented in the broker's office, the judge ruled that the broker erred by not alerting the insured to the limited nature of his enquiries and to the possibility that coverage could be obtained elsewhere.
So what does all this mean for brokers in terms of offering coverage for overland flooding?
For brokers who have clients insured through Aviva, a good place to start would be to offer the Overland Water Endorsement to all clients with eligible properties. On the Frequently Asked Questions portion of its website, Aviva Canada notes that coverage will not be offered for properties located in areas that are 'very highly prone to overland water' nor for properties with a driveway that slopes toward the dwelling. In answer to the question of whether coverage can be added mid-term, the website advises consumers, 'Yes, your insurance broker can arrange this coverage immediately, provided your home is eligible.' If this isn't a call to action for brokers to discuss adding coverage with eligible policyholders, I don't know what is.
For brokers who represent Aviva, there is the question of what to do for clients currently insured through other markets. Now that Aviva has made this coverage available to brokers, it is probably only a question of time before other markets get on board. RSA announced several months ago that it is 'looking at flood coverage'. Presumably other markets will start providing a coverage option for overland flooding in the months ahead if for no other reasons than to remain competitive and to shield their brokers from an E&O claim. In the meantime, it is an open question as to how far the courts will expect brokers to go in terms of alerting a customer that the current insurer does not offer overland flood coverage. In considering this question, it is unlikely the courts will look favourably upon a broker that doesn't take action because of the extra work involved, or because of premium volume commitments to other insurance markets, or because of potential Contingent Profit Commission payments from other carriers. Not that a broker would be expected to shift all business overnight or at renewal to carriers that provide this extra coverage, but there is likely a limit to how much time a broker will be allowed before advising clients that coverage is available through other markets within the broker's office.
And, finally, there is the question of what the courts will expect of brokers who do not have a market that offers overland flood coverage. As noted in the case cited earlier, there is an expectation that, in giving advice to clients, brokers will not confine their discussion to the coverage available through their own markets.
At this point there seem to be more questions than answers as to what actions brokers need to take in order to meet what the Supreme Court of Canada has described as a stringent duty to provide both information and advice. Still, if an error is to be made, it is probably better to err on the side of caution.
---
Disclaimer
Note: By submitting your comments you acknowledge that insBlogs has the right to reproduce, broadcast and publicize those comments or any part thereof in any manner whatsoever. Please note that due to the volume of e-mails we receive, not all comments will be published and those that are published will not be edited. However, all will be carefully read, considered and appreciated.
---
2 Comments » for Overland Flooding Coverage: An E&O minefield for brokers?