Sent Today, Spam Tomorrow?
0
June 4, 2014 at 9:51 am by
Catherine Smola
---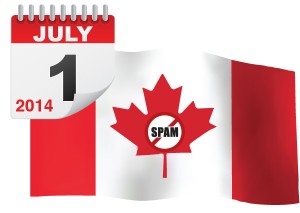 On July 1, 2014, the first phase of a federal law called Canada's Anti-Spam Legislation (CASL) comes into force. Intended to protect consumers from unwanted electronic commercial solicitation in their email inboxes, social media feeds and instant messaging accounts, CASL promises to redefine spam and the way in which businesses communicate with their clients.
Understanding CASL
CASL is concerned with "commercial electronic messages" (CEMs), and whether or not a recipient has consented to receive them. CEMs include sound, text and images intended to encourage participation in commercial activities, but exclude two-way voice communication, faxes and voice recordings.
Questions remain as to precisely what constitutes a CEM. For instance, brokers may send an email containing free insurance advice. On one level, that email serves to inform, not sell – but sending it represents a commercial effort to produce sales in the long term. Challenges over such distinctions are sure to follow in the coming years, providing clearer definitions and operating guidelines over time.
This redefinition of spam will impact insurance brokers, many of whom have developed strategies using social media and mobile technology to identify and contact new leads, and to communicate with existing clients on their upcoming renewals. It is important to note that the CASL restrictions also apply for business-to-business communications such as those between brokers, insurers and vendors. With high penalties – up to $10 million for businesses – CASL requires careful consideration among all parties in the broker distribution channel.
Navigating CASL
The broadest takeaway of CASL is that it is illegal to send CEMs to someone who has not specifically consented to receive them. This restriction seems onerous, but comes with many exceptions that include communications for ongoing business relationships and initiating contact by referral.
Brokers are encouraged to review their communications practices, consult the official Government of Canada CASL website, and seek counsel from a lawyer specializing in privacy law to aid in developing a compliant communications plan. One simple step that many companies are taking in advance of July 1 is to email their existing clients and request consent to continue receiving CEMs. With best practices in place, brokers will be empowered to abide by CASL and continue building the relationships that drive their business forward.
---
Disclaimer
Note: By submitting your comments you acknowledge that insBlogs has the right to reproduce, broadcast and publicize those comments or any part thereof in any manner whatsoever. Please note that due to the volume of e-mails we receive, not all comments will be published and those that are published will not be edited. However, all will be carefully read, considered and appreciated.