Chief Digital Officer: The next big thing?
7
November 27, 2014 at 9:54 am by
Peter Morris
---
There was a time when the only C-suite title was Chief Executive Officer. Eventually new titles emerged such as Chief Operating Officer, Chief Financial Officer, Chief Marketing Officer, and Chief Information Officer. One of the latest C-suite titles to emerge is Chief Digital Officer (CDO). As with most roles, the actual responsibilities assigned to the CDO vary somewhat from company to company. In general, though, it is the responsibility of the CDO is to guide a company through its adoption of digital technologies and its use of digital sectors such as mobile applications and social media.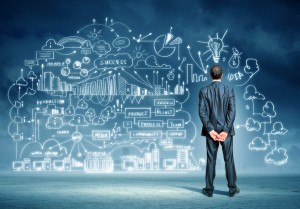 Neha Sampat, CEO of raw engineering, inc., a software technology company specialising in mobile and cloud-based web application development, posted an article earlier this week in which she stated, 'In an increasingly digital world, where everything from marketing to R&D and customer service is becoming digital, the Chief Digital Officer (CDO) is more important than ever in helping drive company growth and a better connection with customers.'
As noted by Neha Sampat, the questions confronted by a CDO include, How do you engage potential customers and provide a consistent experience across a wide array of devices? How do you effectively manage content across channels? And, with the Internet of Things (IoT) expected to gain traction over the next 12 months, how do you formulate a plan to embrace this next wave of digital innovation?
Ms. Sempat's article is entitled Every Company Needs a Chief Digital Officer. It's hard to imagine that every company needs a CDO, but it's fair to say that many may benefit from having a CDO. This is particularly the case with firms that deal directly with consumers.
The installation of a CDO is still a relatively new phenomenon. It is estimated that by the end of this year there will be about 1,000 CDOs worldwide. Some of the early adopters are large international firms with a significant retail presence. Companies that have already hired a CDO include Haggar Clothing, McDonald's, McGraw-Hill, PetSmart, and Starbucks. Financial services firms may not be at the leading edge of the trend to hire a CDO. Nevertheless, at their international headquarters, Aetna, Aviva, and Eastern Bank are among the firms that have hired a CDO in 2014.
In terms of the Canadian property and casualty insurance industry, direct writers stand to benefit from getting out of the gate early with a well-defined and well-executed digital strategy that is targeted towards the consumer market. Insurers that distribute their products through independent brokerages are one step removed from the retail customer and may therefore be less likely to get a big boost from having a strong digital presence. Even though they do not deal directly with consumers, broker-distribution insurers can still benefit from digital technology. According to Bryan Smith, President of Bluetrain Inc., a Canadian digital marketing agency specialising in search engine optimization, online advertising and social media, 'the digital world helps those companies make it much easier to engage directly with the end user and generate a greater pull for their brand. Similar to how nobody buys an Intel chip directly but we have the perception a computer with Intel inside is going to be better. For the smaller/mid-size insurance carriers, they have the opportunity to build brand awareness so when their products are offered by brokers, the customers are more willing to try them.'
As the role of CDO starts to take hold across industry sectors worldwide, it remains to be seen to what extent Canadian property and casualty insurers will join this emerging trend. The ones that do, and get it right, stand to reap rewards.
---
Disclaimer
Note: By submitting your comments you acknowledge that insBlogs has the right to reproduce, broadcast and publicize those comments or any part thereof in any manner whatsoever. Please note that due to the volume of e-mails we receive, not all comments will be published and those that are published will not be edited. However, all will be carefully read, considered and appreciated.
---
7 Comments » for Chief Digital Officer: The next big thing?