Too Good to Be True? Life in the Gig Economy
1
February 23, 2016 at 3:10 pm by
Catherine Smola
---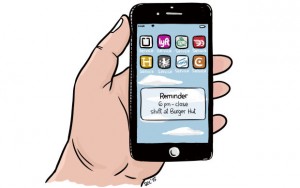 Just how much has the sharing, or gig economy changed our world? A cursory Google search on the topic will usually turn up this common description:
The world's largest taxi firm, Uber, owns no cars. The world's most valuable retailer, Alibaba, carries no stock. And the world's largest accommodation provider, Airbnb, owns no property.
The impact on employment of these and other such 'sharing economy' companies, however, is just the latest evolution of a very old kind of employment: temporary. It's a phenomenon with two faces, presented very differently depending on who you ask.
For Uber and the like, temporary employment represents freedom and flexibility. Contractors who use these services to connect with clients are free to set their own hours, take as many or as few jobs as they wish, and operate under considerably fewer constraints than they would in a traditional, permanent job. The lifestyle afforded by temporary employment has even been romanticized as the "gig" economy, borrowing the term used by musicians when they book a show. Suddenly, driving a taxi has the same cachet as playing the saxophone.
On the other hand, numerous studies have provided a sobering view of temporary employment, describing it as "precarious" instead. A study by McMaster University and the United Way shows that such employment has been on the rise since 1997, long before Uber. Temporary workers, contrary to the image of the gig economy, report higher levels of stress and less control over their schedule and finances, rarely certain of when their next paycheque will arrive or how large it will be. Annual income can fluctuate by tens of thousands of dollars.
The trend began because more and more companies have chosen to reduce costs by outsourcing work on contracts or hiring part-time workers where possible. As a result, 44% of adults in the Greater Toronto Area (GTA) and Hamilton alone identify as a temporary worker, three percent higher than indicated in a 2011 survey.
Companies like Uber may have capitalized mobile technology and revolutionized how services are delivered – after all, a taxi company that owns no vehicles would have been unimaginable just a few years ago – but the types of jobs they create are hardly new. As a result, while mobile technology and those companies who leverage it may not have created the gig economy, they are responsible for expanding it – and creating a new awareness of its wider implications. And awareness often leads to a desire for change.
For instance, there have been lawsuits by temporary workers to obtain the rights and protections afforded by permanent jobs. As well, the Canadian government recently acknowledged that Employment Insurance does not adequately protect temporary workers and is working towards reform.
As technology continues to evolve, the gig economy will almost certainly continue to grow as new players find ways to connect consumers to sellers of virtually any service or product imaginable. At the same time, the laws that govern employment are almost sure to undergo significant transformation, adapting to a labour market that increasingly favours temporary workers. It will be fascinating to see this and other impacts of the gig economy develop over time.
---
Disclaimer
Note: By submitting your comments you acknowledge that insBlogs has the right to reproduce, broadcast and publicize those comments or any part thereof in any manner whatsoever. Please note that due to the volume of e-mails we receive, not all comments will be published and those that are published will not be edited. However, all will be carefully read, considered and appreciated.
---
1 Comment » for Too Good to Be True? Life in the Gig Economy