Insurance Needs Real-Time Now
0
November 5, 2021 at 9:06 am by
Steve Kaukinen
---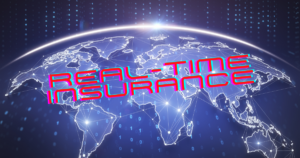 Insurance needs Real-Time now to benefit from lower costs and immediate confirmation between all stake-holders in the insurance distribution vertical. However, Real-Time transactions are too rare in insurance. The most obvious example is D2C insurers who have stepped up their game with customers.
Real-Time is More Than Quote and Buy
But what about Real-Time transactions for other participants in the insurance distribution vertical? Reinsurers, brokers, agents? Real-Time in this article is truly Real-Time, not Real-Time Quote OR Quote and Buy. This is Real-Time Quote-Buy-Change-Renew-Cancellation with multiple insurers and even reinsurers.
How about a solution using platform technology? Platform technology can do Real-Time transactions from quote-issue-policy change-renew utilizing multiple insurers and participating reinsurers. Real-Time transactions supported by participating insurance brokers offer a complete customer experience.
Real-Time transactions are great for consumers who have come to expect instant service in almost every other industry. Holding the industry back are cobbled and aging infrastructure as well as legacy attitudes that are barriers keeping Real-Time out of insurance. Real-Time takes a cooperative effort to benefit everyone who participates.
Reinsurers Can Experience Greater Benefits from Real-Time
The benefits of Real-Time go far beyond customers and can have substantial impact on Reinsurers. Reinsurers can now track risk in Real-Time. Beyond that, Real-Time risk information would open new doors to alternate risk transfer methods, parametric insurance advances as well as potential for risk transfer to capital markets. Climate change is accelerating and exasperating the occurrence of reinsurance events. Real-Time is how natural disasters are happening in some unexpected ways, like the Suez Canal Event with Ever Given. Real-Time changes the game in a substantive way. Everything from Climate Change to Pandemics and Cyber risk can be spread across a broader set of stakeholders rather than avoided. Insurance can lead and be key to successfully navigating the uncertain world that society has helped create. Non-collaborative solutions are a dead end for a world that needs insurance to help solve really serious problems.
---
Disclaimer
Note: By submitting your comments you acknowledge that insBlogs has the right to reproduce, broadcast and publicize those comments or any part thereof in any manner whatsoever. Please note that due to the volume of e-mails we receive, not all comments will be published and those that are published will not be edited. However, all will be carefully read, considered and appreciated.