Get Results with Big Data
0
August 13, 2014 at 1:32 pm by
Catherine Smola
---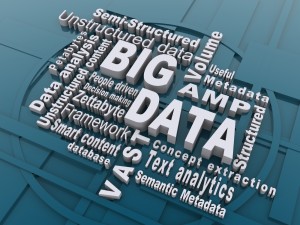 The term "big data" carries much weight today, usually referring to the massive amounts and availability of data for analysis. Big data consists of the growing volume of information from sources such as claims history, industry statistics, telematics devices and, of course, the Internet and social media. According to IBM estimates, big data generates 2.5 quintillion bytes of data daily and 90% of data in the world today was created in the last two years alone.
The term "big data" implies use only by large enterprises with powerful servers, but in fact small- and medium-size businesses have been using it to analyze business operations for years. Common analyses include operational statistics to determine optimal workflow, correlating advertisements with sales, and using high-severity claims data to build predictive models for low-frequency casualty lines. Today's big data industry provides resources to make more nuanced connections between raw data and real-world outcomes.
Big opportunities
For insurance, big data can be a tool to develop a better understanding of customers and introduce innovative services that offer added value, or to better understand complex commercial risks. For personal lines, the ability to tailor services to personal preferences is key with today's mobile consumer, and detailed analyses can optimize cross-selling opportunities. Big data can draw links between consumer attitudes and marketing campaigns, enabling the creation of strategic communications to attract and retain customers.
Many big data service providers offer packages and analytics tailored for businesses of all sizes, making the value of big data available to brokers and insurers across the P&C insurance industry.
Small projects
Companies can benefit from even small amounts of data. An example from CSIO is our use of Google Analytics to track how visitors interact with our website. In addition to obtaining statistics such as total visitors, we learned what kinds of devices people use when visiting. We know which pages generate the most interest, and we link traffic to communications initiatives. With a single source of data, we refined our online offering and even developed a mobile website, resulting in traffic growth and an improved user experience.
If a little knowledge goes a long way, then anyone can travel far with big data.
---
Disclaimer
Note: By submitting your comments you acknowledge that insBlogs has the right to reproduce, broadcast and publicize those comments or any part thereof in any manner whatsoever. Please note that due to the volume of e-mails we receive, not all comments will be published and those that are published will not be edited. However, all will be carefully read, considered and appreciated.
---
No Comments » for Get Results with Big Data
1 Pings/Trackbacks for "Get Results with Big Data"