The Smart Home and Telematics – A Disruptor On the Cusp
0
December 1, 2015 at 7:01 pm by
Catherine Smola
---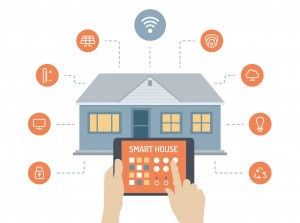 Clap on… clap off. Do you remember the Clapper? An early example of the potential of today's smart home, the device plugged into any electrical outlet and connected to household devices, usually a lamp or stereo, enabling people to turn them on and off simply by clapping. The days of getting out of bed to turn off your lamp across the room were at an end!
Ultimately, the Clapper became known more for its TV ads  than for its customer base, but in many ways it was a device ahead of its time. Consider the capability available today for controlling everything from temperature to home security remotely:
The Smart Home a Growing Trend
At conventions across North America this year, the telematics discussion expanded perceptibly to include not only vehicles, but private homes. In the age of big data and telematics, the insurance industry can benefit not just from knowing how customers drive, but also how customers live:
Do they leave the oven and stove unattended?
Do they have water pipe monitoring to detect leaks?
Do they have smart locks that automatically secure the home even if everybody forgets?
As data becomes more available and smart devices reduce the risk of loss, it is only a matter of time before consumers come to expect insurance discounts.
First, of course, consumers must become adopters of smart devices – and the market is not quite there yet. If the experience with vehicular telematics is any indication, consumers initially resist such monitoring devices until they have gained wider acceptance. According to LexisNexis, 18% of personal lines customers are projected to adopt telematics in exchange for an insurance premium discount, a number that has grown since the technology first appeared. This stands in contrast to the 38% of customers who are aware of telematics offerings in the first place, though the report indicates a strong pattern that awareness of technology often outstrips, but ultimately leads to, a willingness for adoption over time.
So where do statistics stand with regard to smart devices and telematics in the home? Forrester's research indicates that while American adults are interested in smart devices to control home security (33%), climate control (35%) and all the lights in the home (34%), only about 8% already utilize them.  As seen with vehicle telematics, strong awareness inevitably leads to mass adoption, meaning that the number of consumers using smart devices will undoubtedly grow in the years to come.  Our industry has a great opportunity to leverage this soon-to-be widely adopted smart technology as more and more consumers incorporate digital devices into their everyday lives.
Lessons in Telematics Adoption
One last aspect of the LexisNexis report is highly interesting – that safety often trumps premium discounts when consumers decide to adopt vehicle telematics. They appreciate seeing a record of their driving habits and modifying their behaviour accordingly. Therefore, our industry has an important role to play in educating  consumers  on not just how smart homes can impact their premiums, but also how they can reduce risk and prevent loss in the first place.
Telematics and smart homes are not just a modern-day evolution of the Clapper, but an opportunity for our industry to demonstrate technology leadership and to strengthen our position as valued and trusted risk advisers.
---
Disclaimer
Note: By submitting your comments you acknowledge that insBlogs has the right to reproduce, broadcast and publicize those comments or any part thereof in any manner whatsoever. Please note that due to the volume of e-mails we receive, not all comments will be published and those that are published will not be edited. However, all will be carefully read, considered and appreciated.