Claimant hits grand slam at FSCO hearings
2
December 1, 2015 at 11:49 am by
Daniel Strigberger
---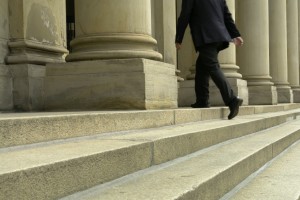 A November 30, 2015 Law Times article titled "Arbitrator orders rare special award against insurer" reports on an unusual FSCO case between Thomas Waldock and his auto insurer. The case not only highlights the constant risks associated with relying on insurer examinations to deny serious claims, but also demonstrates how dangerous it can be to take a matter to arbitration without having sufficient evidence to support a position.
Background
On March 25, 2008, Thomas Waldock was driving near Bracebridge, Ontario and came upon a motorist who was stuck beside a snowbank on the side of the road.  Mr. Waldock got out of his vehicle and went to assist the stranded motorist.  While he was on the roadway, a pickup truck coming down from the crest of the hill apparently lost control and struck Mr. Waldock, throwing him approximately five to 10 feet in the air before he landed on the pavement. As a result of the accident he sustained many serious injuries (too many to list in one blog).
As a result of the accident, Mr. Waldock submitted an application for accident benefits to his insurer. An Application for Determination of Catastrophic Impairment (OCF-19), prepared by Dr. Arthur Ameis and dated July 7, 2010, was submitted. A team of assessors, including a psychiatrist named Dr. Zohar Waisman, completed their reports, which Dr. Amies summarized, as follows:
The combination of psychiatric (35% WPI) and physical (21% WPI) impairment ratings results in a final 49% WPI, which would round to 50% WPI.

If Dr. Waisman's 32% WPI physical impairment rating were to be used instead, the result would be 56% WPI.

At present, Mr. Waldock does not have a catastrophic impairment.  However, it is inevitable that he will deteriorate so as to eventually meet and then exceed the catastrophic impairment threshold set out under Clause (f) of the applicable Schedule.
The insurer referred Mr. Waldock for insurer examinations under section 44 of the SABS. One of those examinations was a psychiatric assessment with Dr. Frank Cashman, which occurred on November 17, 2010. Dr. Cashman opined that Mr. Waldock was depressed, but the primary issues were his pain and the impairment that has resulted from his injury. He disagreed with Dr. Waisman's assessment of psychological injuries in the 35% range and opined that there "was evidence for a 10% permanent impairment due to Psychiatric illness."
The insurer decided to rely on the section 44 examinations and, apparently, Dr. Cashman's findings and denied the application for catastrophic impairment on January 27, 2011. The adjuster wrote to Mr. Waldock again in January 2012, as follows:
Thank you for your correspondence of January 11, 2012.  We have reviewed our S 44 Assessment reports, copies were provided to you previously, and note that if f) and g) were combined the WPI would be 42%. We have also reviewed your S 25 cat assessment report dated July 5, 2010 and further note that at the time of that assessment, the assessors concluded Mr. Waldock had a 49% WPI but if they assumed physical deterioration in future but no change in the psychological status, they were able to reach 56% WPI. Our position regarding impairment therefore, remains as outlined in our OCF-9 dated January 27, 2011.
The Preliminary Hearing
A three-day preliminary issue hearing was held to determine whether Mr. Waldock sustained a "catastrophic impairment" as a result of the accident. At the hearing, the parties agreed that for the purposes of the physical impairments, Mr. Waldock's physical impairments would be assessed at between 32% Whole Person Impairment and 36% WPI, based on the medical and occupational therapy assessments. The main issue was with respect to the psychological ratings.
Mr. Waldock called a number of witnesses to testify at the hearing, including the claimant, his wife, two treating orthopaedic surgeons, Dr. Waisman, and Dr. Amies.
The insurer did not call any witnesses to testify at the hearing. Instead they relied on Dr. Cashman's and an occupational therapist's reports.
The Arbitrator's Decision – November 10, 2014
The arbitrator found that Mr. Waldock had sustained a catastrophic impairment, topping the 55% WPI rating. He noted firstly that "unfortunately" the adjuster who wrote the January 2012 letter denying the CAT claim was not called to testify at the hearing, finding that his reasons for denying the claim were "somewhat confusing".
The arbitrator also discounted Dr. Cashman's findings, especially since he didn't testify at the hearing:
Dr. Cashman did not appear as a witness in this matter.  Consequently, I find his reports are untested and present less credible evidence than that of Dr. Waisman and his colleagues.
With respect to the evidence, the arbitrator was satisfied that Mr. Waldock's current WPI rating was at least 55%.
The Expenses / Special Award Decision – November 16, 2015
Following the preliminary issue hearing, the insurer paid Mr. Waldock a significant portion of the benefits that he was claiming. However, the parties still disagreed over $361,520.30 in unpaid benefits, interest, and expenses related to the November 10, 2014 decision.  Mr. Waldock also sought a Special Award.
In a decision dated November 16, 2015, the arbitrator awarded Mr. Waldock everything that he sought: $361,520.30 in unpaid benefits plus interest, costs of $125,435.00 and his disbursements of $45,824.52, a Special Award at a rate of 30% totalling $108,456.09, plus interest at 2% per month, compounded monthly, commencing July 7, 2010.
With respect to the Special Award, the arbitrator apparently took exception to the insurer's decision to rely on Dr. Cashman's report to deny the CAT application and then failed to call him as a witness at the hearing:
In my decision on the preliminary issue, issued on November 10, 2014, I referred to the oral evidence of Dr. Waisman wherein he was critical of the report prepared and submitted by Dr. Cashman to State Farm.  State Farm relied upon Dr. Cashman's report to deny that Mr. Waldock had suffered a catastrophic impairment.  State Farm did not bring Dr. Cashman as a witness to that Hearing and thus, I found that his report was untested and less credible evidence than that of Dr. Waisman and his colleagues at Multidisciplinary Designated Assessment Centre ("MDAC"), including Dr. Ameis.

Upon considering that State Farm refused to accept Mr. Waldock's application for determination of a catastrophic impairment by relying on Dr. Cashman's report, which failed to follow the accepted guidelines to determine whether a person is catastrophically impaired; and, considering that State Farm had ample evidence that Mr. Waldock was very seriously injured and partially incapacitated as a result of the accident, I find that State Farm must be considered responsible for unreasonably withholding or delaying payments to Mr. Waldock, pursuant to the Act.
The Aftermath
The Waldock case provides an example of a "worst-case" scenario coming true for an insurer. It underscores how important it is for claims handlers to assess all of the available information – medical or otherwise – before deciding whether a claimant meets a given definition or disability test under the policy.
The case also highlights the risks involved in taking disputed issues to hearings. It is somewhat puzzling that the insurer proceeded to participate in a catastrophic determination hearing without calling any witnesses to testify on their behalf. Not surprisingly, the arbitrator had little difficulty accepting the evidence of the various persons who testified over the written reports of those who weren't called to the hearing.
The two decisions are available below:
November 10, 2014 CAT Preliminary Issue Hearing
November 16, 2015 Special Award hearing
The Law Times article is available here: "Arbitrator orders rare special award against insurer"
---
Disclaimer
Note: By submitting your comments you acknowledge that insBlogs has the right to reproduce, broadcast and publicize those comments or any part thereof in any manner whatsoever. Please note that due to the volume of e-mails we receive, not all comments will be published and those that are published will not be edited. However, all will be carefully read, considered and appreciated.
---
2 Comments » for Claimant hits grand slam at FSCO hearings