Say "Happy Valentine's Day"​ the Smart Way!
0
February 2, 2017 at 10:48 am by
Daniel Strigberger
---

I don't think there's a better way to say "I love you" than to give that special someone their very own copy of Auto Insurance Coverage Law in Ontario.
For those dark and lonely nights when your loved one wants to read about the meaning of "accident" for third party liability coverage. Or to look up how arbitrators have defined the word "dependant" in section 3 of the Statutory Accident Benefits Schedule. Sometimes your spouse might just want to confirm that they are indeed a "spouse", as that word is defined in section 224 of the Insurance Act.
Give your loved one the chance to say:
"I remember one Valentine's Day not too long ago. It was snowy and brisk outside. A Polar Vortex had swept through the city. The day seemed to last forever. I had spilled hot coffee on my new jacket. I was miserable. Alone. Afraid. And then when I got home, I could not believe my eyes! My loved one had bought me my very own copy of Auto Insurance Coverage Law in Ontario!"
Imagine the opportunity to spend a warm summer evening with your loved one, cuddling together on the deck and reading together about uninsured automobile coverage under section 265 of the Insurance Act. The birds begin to sing that sweet summer song. The evening air smells like warm apple pie. And just when the moment couldn't be any more romantic, your loved one reads out loud:
The legislative intent of section 265 is to alleviate the trouble of motorists injured by drivers of uninsured and unidentified automobiles. [1] The coverage is designed to spread the risk of uninsured drivers among drivers, through insurance policies, and not among the tax base generally, through the Motor Vehicle Accident Claims Fund. [2]
And then you hear your loved one recite those sexy footnotes:
[1] Barton et al. v. Aitchison et al., [1982] O.J. No. 3510 (C.A.), 39 O.R. (2d) 282, at para 16.
[2] Bruinsma v. Cresswell, [2013] O.J. No. 770 (C.A.), 114 O.R. (3d) 452, at para 24.
Flowers?
"That's very original", she said sarcastically.
Chocolate?
"Stop trying to make me fat", he said depressingly.
Auto Insurance Coverage Law in Ontario?
"You read my mind! I LOVE YOU!"
Make February 14, 2017 a day to remember for your loved one. Say "Happy Valentine's Day" the smart way! Order your copy of Auto Insurance Coverage Law in Ontario today!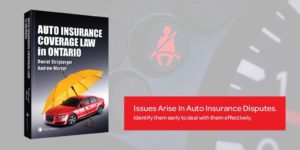 ---
Disclaimer
Note: By submitting your comments you acknowledge that insBlogs has the right to reproduce, broadcast and publicize those comments or any part thereof in any manner whatsoever. Please note that due to the volume of e-mails we receive, not all comments will be published and those that are published will not be edited. However, all will be carefully read, considered and appreciated.